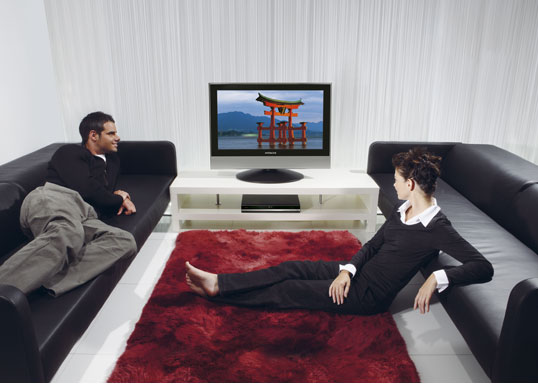 Current as of: 19th May 2010
Update: 19th May 2010
Digital 44 (D 44) has now ceased transmission in Sydney. The Government has decided to cease transmissions of these services. That means that you cannot longer view channels: NITV, ABC NEWS (Text Service), Expo Channel, Australian Christian Channel, Teachers TV and the parliment channels in the Sydney Metropolitan Area.
On a positive note, TVS now broadcasts on Digital 44. TVS is Sydney's community free to air channel.
Worlds First 3D Broadcast In Australia!
Also a note to remind people of Australia, that from Wednsday the 26th of May 2010 will be the worlds first broadcast of 3D Television in Australia when the Nine Network will be broadcasting the Rugby League - State Of Origin in 3D. To watch the 3D broadcast, viewers will need to purchase a specially designed television. Prices for the televisions, which require viewers to wear special glasses, start at $2500. Viewers with 3D-enabled televisions will be able to watch the special broadcasts on channel 40 on digital televisions. The regulator's approval was required for the trial to go ahead because it will use a channel frequency under government conrol.
Also, SBS announced it will broadcast 15 FIFA World Cup matches on a dedicated 3D channel - channel 40 - in addition to its coverage on SBS ONE and SBS TWO. Sony is offering broadcasters 25 matches in 3D, including Australia's June 13 clash with Germany and most of the finals.

01 - One HD
02 - ABC1 SD
03 - SBS One
07 - Seven SD
09 - Nine SD
10 - Ten SD 11 - One HD 12 - One SD
20 - ABC HD 720p
21 - ABC1 (same as channel 02)
22 - ABC2
23 - ABC3 - ABC Kids Televison 24 - ABC 24 Hour News Channel
30 - SBS 'HD' 576p (No native HD)
31 - SBS One (same as SBS Channel 03)
32 - SBS Two
38 - SBS Radio 1
39 - SBS Radio 2
44 - TVS Sydney Community Television 70 - Seven HD 1080i
72 - 7TWO
90 - Nine HD 1080i
99 - GO!
200 - ABC DiG Radio
201 - ABC DiG Jazz Radio


In Tasmania, TDT is offered in place of SC10
Some residents in Sydney may also be able to receive the below stations from the Central Coast or Wollongong...
02 - ABC SD
03 - SBS SD
05 - SC10 SD (Ten)
06 - Prime/GWN SD (Seven)
08 - NBN/WIN SD (Nine)
20 - ABC HD 720p (Occasional native HD)
22 - ABC2 SD
23 - ABC3 - ABC KIDS
24 - ABC 24 Hour News Channel
30 - SBS 'HD' 576p (No native HD)
31 - SBS One 32 - SBS Two
38 - SBS Radio 1
39 - SBS Radio 2
50 - One HD
60 - Prime 'HD'1080i 62 - 7TWO On Prime 80 - NBN/WIN HD 1080i 88 - GO!
200 - ABC DiG Radio
201 - ABD DiG Jazz Radio


1/12 - Ten HD (12 can be deleted)
6/61/62/63 - Prime SD (61, 62 and 63 can be deleted)
7/71/72/73 - Seven SD (71, 72, 73 and 77 can be deleted)
8/81 - NBN SD (81 can be deleted)

Notes
*'HD' services denoted as '576p' are generally not considered to be proper High Definition, Australia is the only country to recognise 576p as HD as it offers no extra resolution. Many suggest that the SD service is of higher quality SBS only upconvert their SD material.
*Nine Guide (LCN 99) not available in all metro markets.
*When multichanneling occurs, the LCNs listed under duplicate channels will be used, some STBs and most TV tuner cards will require a rescan to receive additional services


© Digital Television For Dummies 2008